Granite Nadon manufactures and installs funerary monuments on the North Shore, in Montreal and on the South Shore. Our team of experts guaranties you superior quality monuments that carry on the memory of a loved one. Our artisans can personalize them by hand, and is always done on carefully selected granite. Whether simple or elaborate, every monument is a work of art.
Manufacturer
For over 25 years
Producing inspiring and long lasting monuments. For over 25 years, founder Richard Nadon has worked to master the art of monument design. This family owned business takes care of the production, lettering and engraving, installation and restoration of any type of monument.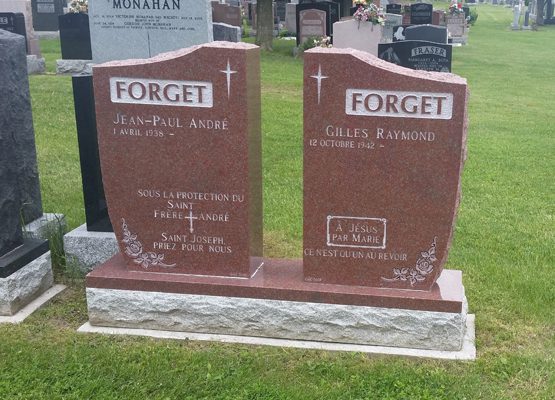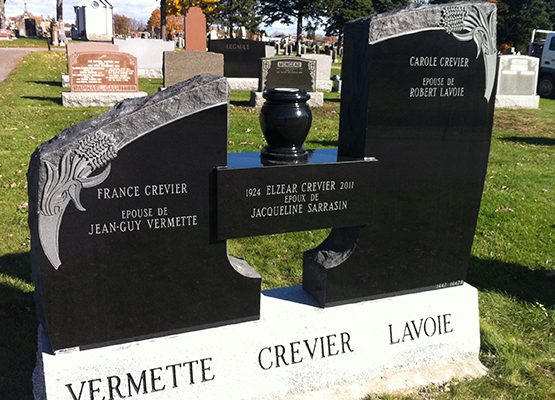 « To offer a monument to a lost loved one, is also to care about the family members and relatives, who can gather and connect together »
– Richard Nadon, founder
Monuments
That survive the passing of time
Our monuments are offered in a large choice of models and colours to fit every budget. Moreover, we often have more than 80 monuments in stock that you can personally view in our shop.
Engraving,
Lettering and restoration
Using our sophisticated equipment and superior craftsmanship, Granite Nadon can go on site to personalize or add to a monument as well as restore it to its original pristine state, regardless of its original manufacturer.
When a loved one passes away
The choosing of a monument is a delicate task. We are at your service to guide you through the options available for you. As your specialist, Granite Nadon is involved in every step of the production: manufacturing, engraving, lettering and installation.
Planning: the benefits
The benefit of planning your monument before you pass, eases the burden your loved ones will feel. You can personalize it to your taste and take advantage of current prices.
We come to you
Choose where you want to meet with us, either at our shop in Mirabel or in the comfort of your home. This is at no additional cost and carries no obligation to buy.
Manufacturing and installation
Using the highest quality granite, our monuments are designed by local artisans and installed flawlessly to weather the passage of time.
Lifetime warranty
Our funerary monuments come with a complete lifetime warranty against defects in materials and workmanship. Everywhere in the Greater Montreal, from the North Shore to the South Shore, Granite Nadon is a name you can trust.