A monument turns the essence of a life into an enduring symbol. Every detail is a testament to the character of the deceased, representing their legacy for future generations. Additionally a monument is a place or family to gather and remember their loved one.
Detailed work
Every funerary monument that we manufacture in the Greater Montreal, on the North Shore and on the South Shore is very important to us. Custom designed on high quality granite, each monument is a unique piece of work, backed by a lifetime warranty. Our craftsmen put their talent and expertise at your service.
A large choice of monuments is available. Even the most ubiquitous monument styles can be made unique to the individual.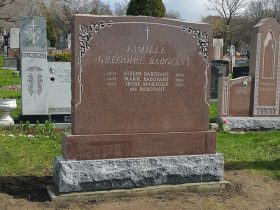 Monuments
We offer a large choice of conventional monuments for those who are looking for quality and simplicity. They are offered in many sizes, shapes and colours of granite. Come on in and see our 80 models in stock.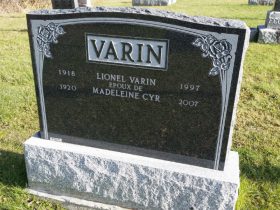 Personalized monuments
By choosing a shape with a rounded or irregular outline a monument can be made to represent the passion of the deceased. Words can be added to heighten the impact of a personalized monument.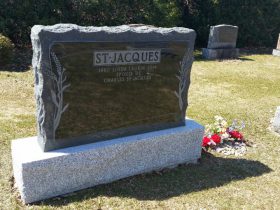 Prestigious monuments
The prestigious monument is a true work of art. It stands out with its impressive height and style. Often dedicated to families, the prestigious monument inspires dignity and is also an object of admiration.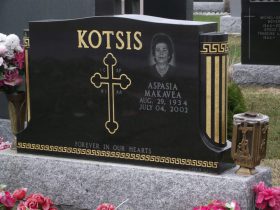 Cultural diversity
Our craftsmen can create funerary monuments in harmony with your culture, your traditions or your religion. We work with great respect for your specific needs.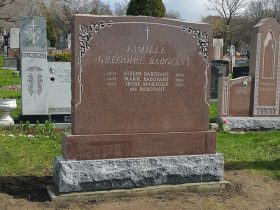 Etching
If you would like to have a specific portrait, landscape or a symbolic image engraved by hand on a monument. Nothing comes close to the beauty of etching done by our artists. The fine details and the striking contrast create an outstanding effect.
According to your budget
Many factors will impact the result of your funerary monument. The main ones are:
• The size
• The colour
• The complexity of the work
With every respect for your tastes and budget, our team will guide you through every option available for you.
As the manufacturer and installer, Granite Nadon has executive control in order to give you optimal quality and price.
About us
How to make the right choice
With professional and personal guidance we help you define your specific needs. The first step in the process is to determine who the monument is for, whether it be a family, a single person or a couple. A monument is a way to reflect the life and memories of a loved one in stone. Recognizing the extreme importance of this decision, Granite Nadon takes time to listen to you in order to guide you on the right path.
Count on our expertise
Manufacturing, installation, lettering and restoration of funerary monuments on the North Shore, in Montreal and on the South Shore. We are here for you, to answer all your questions.